It's back to school time! It seems the summer flew by. Our summer reading program was super successful, with 777 kids reading...wait for it....11,019 books! Did I just hear a gasp? Oh, that was me... but isn't that unbelievable? Congratulations to all you ragin' readers out there and their parents!
Now here are some books that will ease the transition from summer fun to school excitement:
This book expands upon the ten rules you should know before you go to school. Cute and funny!
Louise the Big Cheese is determined to make the grade in school this year and that means straight A's. But she's stuck with the toughest teacher ever. Will Louise make the grade?
On the first day of the new school year, the Berenstain cubs are reminded that "though school is a challenge, it can also be fun."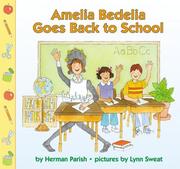 Amelia Bedelia is ready to learn, but it's the class that gets a lesson in reading, writing, and ridiculousness! Pull back the flaps to peek at Amelia Bedelia's school day.
Hudson, who loves to make things but hates going to school, fails a spelling test and meets with a special teacher, who discovers Hudson has a very different way of learning things.
>
Simon the rabbit does not want to go to his first day of school, but by the time his mother comes to take him home, he is having such a good time that he does not want to leave.
Summer is over and Tortoise must summon the courage to go back to school.
Being new in school is never easy for monsters except in Transylvania where all the schoolchildren are monsters too. Funny graphic novel!
Monica
has the chance of a lifetime: she's been asked to ride with her friends in a parade! But the problem is, the parade is for the Rock Creek football team, and they're Pine Tree Middle School's rivals in the big game. How can she support her school and her friends from Rock Creek, and still ride in the parade?
When thirteen-year-old David Greenberg's best friend makes the start of
middle school
even worse than he feared it could be, David becomes friends with Penny, who shares his love of television shows and posts one of their skits on YouTube, making them wildly popular--online, at least.
Each morning, student Ron Faster hurries to
Harvey N. Trouble School
, where he encounters such staff members as science teacher Ms. Roxanne Pebbles, music instructor Mrs. Doremi Fasollatido, and the resigning janitor Mr. Iquit.