Welcome to my list of New, New, New books for Fall! Robots, aliens, ogres, ghosts, and shadow people predominate--preparing for Halloween already, I guess. Check these out and let me know what you think. I have two favs here. Can you guess which books they are?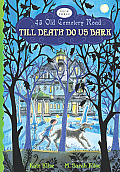 Till Death Do Us Bark
by Kate Klise--In this story told mostly through letters, Noah Breth's feuding children come to Ghastly, Illinois, to follow a trail of limericks to their inheritance, while Seymour tries to convince Iggy and Olive to let him keep Mr. Breth's dog.

The Ogre of Oglefort
by Eva Ibbotson--When the Hag of Dribble, an orphan boy, and a troll called Ulf are sent to rescue a princess from an ogre, it turns out to be far from the routine magical mission they expect.

The Girl Behind the Glass
by Jane Kelley--Moving from Brooklyn to a rental house in the country strains the relationship between eleven-year-old identical twins Hannah and Anna Zimmer, a situation made worse by the ghost of a girl who is trapped in the house because of problems with her own sister eighty years before.

Killer Pizza: The Slice
by Greg Taylor--Having passed the tests to become Monster Combat Officers, teens Toby, Annabel, and Strobe are sent on a secret mission to deliver to the Monster Protection Program a beautiful fourteen-year-old monster who wants to defect, regardless of the considerable dangers this poses.

The Fourth Stall
by Chris Rylander--Sixth-graders Mac and Vince operate a business charging schoolmates for protection from bullies and for help to negotiate conflicts peacefully, with amazing challenges and results.
The Midnight Gate
by Helen Stringer--Twelve-year-old Belladonna Johnson, who lives with the ghosts of her parents, once again teams up with her classmate Steve, whose mother has suddenly disappeared, when they are given a dangerous assignment by a ghostly monk involving a return to the Dark Times.
The Empire of Gut and Bone
by M.T. Anderson Brian and Gregory have come to New Norumbega for a reason — to convince the Norumbegans to intervene and save North America from invasion. But instead, the two boys find themselves caught up in both a rebellion and a murder mystery after one of the Norumbegan leaders is sent to sleep … permanently.